Tooth Fillings in Mill Creek, WA
Traditional dental restoratives, or fillings, may include gold, porcelain, or composite. Newer dental fillings include ceramic and plastic compounds that mimic the appearance of natural teeth. These compounds, often called composite resins, are typically used on the front teeth where a natural appearance is important.
Types Of Dental Fillings
There are two different types of fillings: direct and indirect. Direct fillings are placed into a prepared cavity during a single visit. Indirect fillings generally require two or more visits. These fillings include inlays, and veneers fabricated with ceramics or composites.
Tooth-Colored Fillings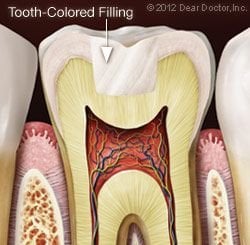 Composite — A popular choice for those who don't want their fillings to show, composite is a mixture of plastic and glass, which actually bonds to the rest of the tooth. Composites are more expensive than amalgam fillings, and the newer materials can hold up almost as long. Less drilling of the tooth is necessary when placing composite as compared to amalgam.
Porcelain — These high-tech dental ceramics are strong, lifelike, and don't stain as composites can. They are sometimes more expensive than composites because they may require the use of a dental laboratory or specialized computer-generated technology. While considered the most aesthetic filling, they can also, because of their relatively high glass content, be brittle.
Glass Ionomer — Made of acrylic and glass powders, these inexpensive, translucent fillings have the advantages of blending in pretty well with natural tooth color and releasing small amounts of fluoride to help prevent decay. They generally don't last as long as other restorative materials.
What to Expect After Getting a Filling
The numbness caused by your local anesthesia should wear off within a couple of hours. Until then, it's best to avoid drinking hot or cold liquids, and eating on the side of your mouth with the new filling. Some sensitivity to hot and cold is normal in the first couple of weeks after getting a tooth filled. If it persists beyond that, or you have any actual pain when biting, it could signal that an adjustment to your filling needs to be made.
Continue to brush and floss as normal every day, and visit the dental office at least twice per year for your regular checkups and cleanings. And remember, tooth decay is a very preventable disease; with good oral hygiene and professional care, you can make your most recent cavity your last!

If you have a cavity that needs to be filled, Roger A. Flake DDS Family & Cosmetic Dentistry offers dental filling services. Call our Mill Creek, WA office today at (425) 338-2966 to book an appointment!