A Brilliant New Approach To Caries Detection Is Now Available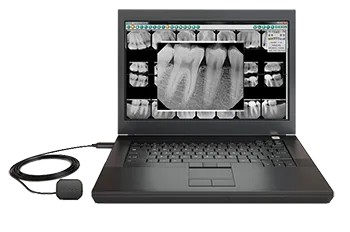 Combining a unique technology with ease of use, the new DEXIS® CariVu™ is a valuable tool in the dentist's diagnostic armamentarium.
DEXIS is pleased to announce the introduction of CariVu, a compact, portable caries detection device that uses unique, patented transillumination technology.
This exciting new product features the ability to detect a range of carious lesions (occlusal, interproximal, secondary/recurrent) and cracks with ease, and yields an easily interpreted image that is stored with the patient's other images.
Incorporating easily into current workflow, CariVu serves as a valuable adjunct tool for the identification of tooth decay when used with clinical and radiographic examinations.
CariVu embodies a modern version of transillumination technology that has been evolving for over a decade and has been shown, in some cases, both to find lesions earlier than X-rays, as well as represent the lesion's structure very accurately. Also, design improvements have led to a product where the light source and other electronics needed for image capture are housed sleekly in a lightweight handpiece that can interact with the DEXIS software.
The system also utilizes flexible, autoclavable tips. This improved usability speaks to the hallmarks of DEXIS imaging solutions of ease of use and patient comfort.
This new system employs near-infrared light which, in images, turns the natural tooth transparent and the caries dark — similar to radiographs, and thus a view that is familiar to clinicians. Not only are CariVu images easy to read and understand, they are captured and stored with the patient's other images.
Since all intraoral X-rays, camera, and CariVu images for the select tooth appear side-by-side, the clinician can quickly compare them to make a diagnosis and decide on a course of treatment. These images can be shared with patients so they may better understand the need for preventive or restorative care.
The technology behind CariVu offers an advantage in diagnosis of caries over systems that rely on fluorescence reactions, which are typically denoted by colors or numeric values. In laboratory testing on the comparison of these two technologies, this new transillumination device showed that the view of the lesions on the images correlated well with their actual physical conditions.
Thus, with CariVu, the dentist gains a more accurate view of the actual carious lesion's shape and size, not just an indication of the presence of decay.
CariVu Indications for Use: The DEXIS CariVu is designed exclusively to support the identification of open or incipient carious lesions above the gingiva and for monitoring the progress of such lesions. Indications: Detection of smooth surface caries, detection of occlusal caries, detection of proximal caries, detection of initial caries, detection of secondary caries and detection of cracks
About DEXIS
DEXIS is an industry leader in developing high-quality digital imaging solutions for the dental community. In 1997, DEXIS introduced digital radiography on laptop computers, which made it the first truly portable and affordable digital X-ray system.
In 2001, DEXIS® became the first intraoral digital radiography system to be accepted by the American Dental Association into the highly prestigious ADA Seal Program. Today, DEXIS is the most highly awarded intraoral digital X-ray system, with numerous awards from dental researchers and well-respected dental publications.
For more information on the DEXIS Imaging Suite of software products and the DEXIS® Platinum Sensor, visit www.dexis.com.